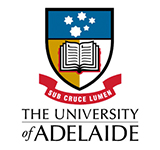 The University of Adelaide favorite: 504
The University of Adelaide
Address:
Australia | South Australia | Adelaide

favorite
apply for it
Student Distribution
Local student:
International student:
Introduction
The University of Adelaide (colloquially Adelaide University or Adelaide Uni) is a public university in Adelaide, South Australia. Established in 1874, it is the third oldest university in Australia. It is consistently ranked in the top 1% of universities worldwide. It is also associated with five Nobel laureates, 104 Rhodes scholars and is a member of the Group of Eight, as well as the Sandstone Universities. Its main campus is on North Terrace in the Adelaide city centre, adjacent to the Art Gallery of South Australia, the South Australian Museum and the State Library of South Australia. The university has five campuses throughout the state: North Terrace; Roseworthy College at Roseworthy; The Waite Institute at Urrbrae; Thebarton; and the National Wine Centre in the Adelaide Park Lands. It has a sixth campus, the Ngee Ann – Adelaide Education Centre (NAAEC), in Singapore. The 20th Vice-Chancellor of the University is Professor Warren Bebbington, who was formerly the Deputy Vice-Chancellor (University Affairs) at the University of Melbourne. He commenced his position in July 2012.
QS World ranking
| 2019 | 2018 | 2017 | 2016 | 2015 | 2014 | 2013 | 2012 | 2011 |
| --- | --- | --- | --- | --- | --- | --- | --- | --- |
| - | - | - | - | - | - | - | - | - |
{{scores.count}} comments
Abstract
{{type}}
{{comment.account_id.displayname}}
{{comment.content}}
{{comment.create_at|date:'yyyy/MM/dd'}}

{{comment.like_accounts.length}}
find courses for you
degree level:
qualification type:
subject area: